Check out the original Article here
Check out the slideshow here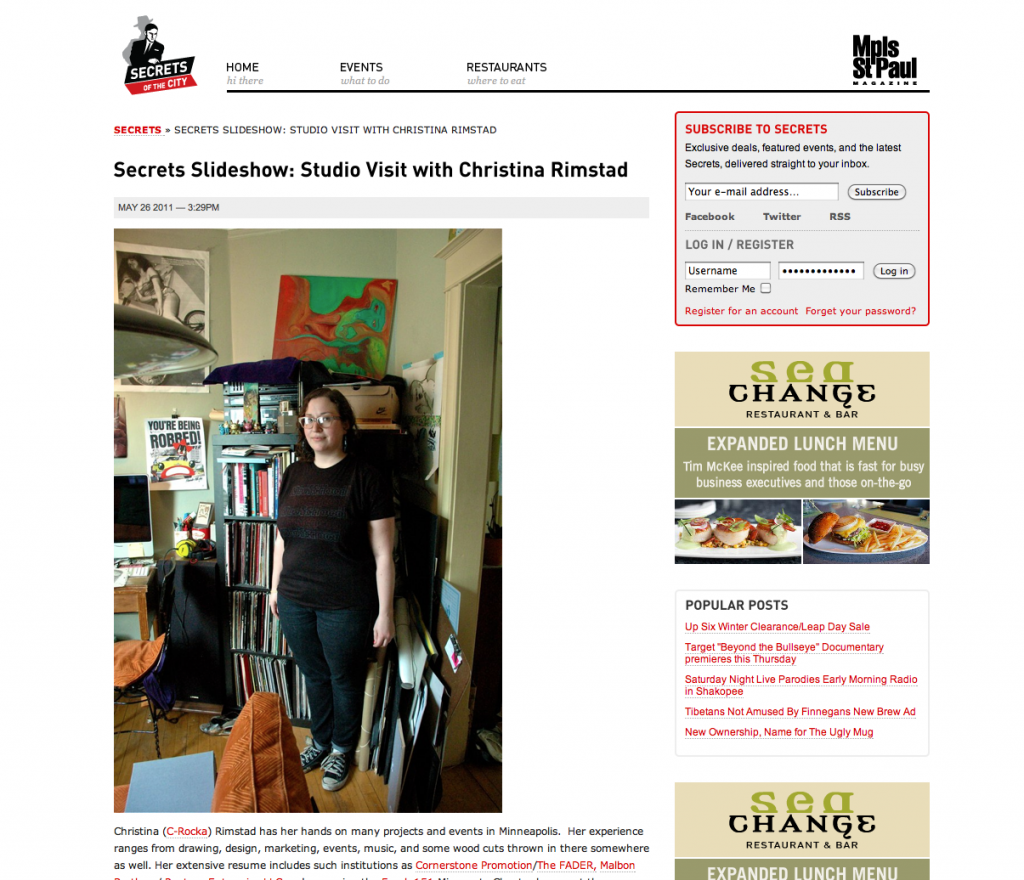 Christina (C-Rocka) Rimstad has her hands on many projects and events in Minneapolis.  Her experience ranges from drawing, design, marketing, events, music, and some wood cuts thrown in there somewhere as well. Her extensive resume includes such institutions as Cornerstone Promotion/The FADER, Malbon Brothers/ Rapture Enterprise LLC and managing the Frank 151 Minnesota Chapter known at the Minneapolis Lumber Jackers. 

View the Slideshow here on Flickr.
Photos and interview by Kelsey Johnston
Secrets: Where are you from?

Christina: Princeton to Inver Grove Heights, Minnestoa.
Most of my pre-teen/teen years were spent growing up in Inver Grove Heights.
Secrets:What are you currently working on?
Christina: I'm currently working to be more focused on reaching a professional goal of
mine to become an Art Buyer but I have to start smaller with a role as a
Project Manager/Studio Manager in a creative setting. I've been talking
with Michael Cina about a couple of upcoming projects that I'm super excited about.
I've been keeping up on the design tip by working as a graphic design intern with MISS
a women's online lifestyle magazine based in San Fransisco.  MISS
covers fashion, art, beauty, music and design. It is so awesome! I've
been able to connect with so many amazing women across the U.S. who are
all very talented.
Oh! and my sketchbook, it  is on tour right now with the Brooklyn Museum of Art's Sketchbook Projecttour across the United States. The next few stops on the tour are Seattle, San Francisco, and Chicago.
Secrets: Is there a common theme present in all the work you produce?
Christina:One strong theme you'll find in a lot of my work is women and not just any
kind of women but  STRONG women! I refer to my ladies as "Bad Ass
Broads" and most of if not all of these ideas all start with a pencil or
pen and a piece of paper. I then decide what direction to take it in to
bring that idea to life whether it is through wood, fabric, print,
paint, glass or digital mediums. I have always enjoyed discovering and
working with different mediums but that can be my kryptonite too because
I'm not as focused as other artists who have one specialty.
Secrets: What is the most important part of your process?
Christina: Making a list of steps for myself to accomplish for that particular piece. I
also feel like researching something is huge too, I like to make mood
boards for projects and really make sure I understand what the client
wants and needs for the final piece.
Secrets: How do you collect influences for a given project?
Christina: I bust out the creative brief and start asking questions and trying to figure out what the end result will be. Also research!
I cannot express how much this is a huge part of my collecting of
influences. I need to understand what I'm working with or who I'm
working for so I'll seek out articles, books, and images on that given
subject/personality.
Secrets: What is the best part of Minneapolis? (What are some of the things you look forward to this summer?)
Christina: THE SUMMER! After wearing layer after layer for 8 + months it is nice to
finally peel off the clothing and layout in the sun, enjoy barbecues, go
canoeing, outdoor concerts, movies in the park, and biking around the
city. I've always felt like Art-A-Whirl has been a kick-off to summer in
the city because it is the first big art festival that has GROWN like a
wildfire over the years.
Secrets: What is your favorite establishment in Minneapolis? (Where do you hang out in the city?)
Christina:This is a tough one! There are so many great places in this city but I'd
have to say ONE of my favorite places to go would be the Triple Rock.
The bartenders are the best, the food is fantastic, and the jukebox has
such a wide selection you could listen to NWA "F*CK THE POLICE" and
followed by Otis Redding's "Sitting on the Dock of the Bay," LOVE IT!
Secrets: What local artists are you getting into these days?
Christina: I've always been in awe of the work that Burlesque of North America 
makes, they've been able to reach out to several different areas of the
US/World and they're right here in our backyard. Ben LaFond
is an amazing photographer that I like to keep my eye on, I try to
check his flickr page once a week to see what he's been shooting. Last
but not least Ameila LeBarron her illustration work is captivating the way her lines dance across the
canvas making her images flawless and the choice of colors are always
on point.
Secrets: Childhood dream career.  Did you always see yourself in the art business or did you have other aspirations?
Christina: I can honestly say that I've always seen myself in the arts but as a
child, don't laugh, I wanted to be a Radio City Rockette! Dance was my
passion for 14+ years and even though I don't dance professionally now I
still put on my jazz shoes on and practice my high kicks.
I grew up in a creative environment where we were always painting
something, listening to my mom play the piano and sing (my mom's a
musician), and creating our own plays to put on for each other. My
imagination was unlimited and still is.